Find Your Match made in Heaven for the Naughtiest Fun Online: A Jerkmate Review (2023)

If the name Jerkmate isn't already turning you on, it's definitely because you haven't visited the website yet. This recent live cam platform is home to thousands of models worldwide and more than 150 million visitors monthly.

Since its creation in 2019, Jerkmate has helped many internet users find the perfect person to have adult online fun with. And with its top-notch features and arousing roleplay games, it's now a sought-after live cam site the competition better watch out for!
Almost ready to find your jerk mate? Here are the pros and cons you should know about.
Pros:
Free and quick registration 

Real profiles with real models 

No photo required like on dating apps

Nine languages available
Cons:
Price per minute isn't one of the filters.

You need to pay to see exclusive content

Performers may not be available if they are in a private show

You need to be in Gold Shows to see more explicit content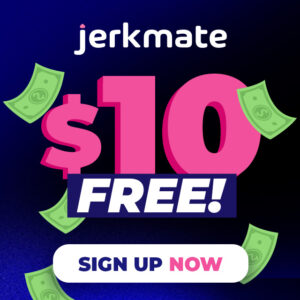 What is Jerkmate?
Jerkmate is a top live cam streaming provider similar to LiveJasmin, BongaCams, Streamate, and Chaturbate. It grew in popularity during the COVID-19 pandemic, and it's still one of the most visited adult sites in the industry. What makes this stimulating platform so awesome?
Thousands of amateur models and experienced live performers 

Lots of diversity: men, women, trans, couples

Free sign-up process without surprises

Free exciting games featuring famous models

Many match suggestions based on your preferences

Exclusive performances for premium members
And that's just a glimpse of the fun you can have on Jerkmate. With Jerky, the sexpert bot assistant, you can discover tons of categories and special features based on what you're looking for.
The live cam site is 100% accessible on mobile, tablet, desktop, or Smart TV to provide you with the sexiest and sluttiest experiences. No glitches, and definitely no stitches! Everything happens online at your own pace. You let your fingertips guide you and lead you to the model's cam room of your desire. 
You can be sure to find someone attractive–man, woman, transperson, or couple–online ready to play naughty games with you. There are thousands of models online at all times. All you have to do is make your pick! All the browsing is free, and matches suggestions get more tailored to your tastes if you create an account.
Access to the Jerkmate platform is completely free, but online live shows and private sessions with a model are paid. The website is perfect for singles and couples who want to push their limits and discover things they didn't know they were into: 
BDSM

Sleep shows

Roleplay

Food play

Dirty talk
You name it! If you have any body parts left unexplored in the past, a model can help with that! You've been curious but too shy to try cosplay? A model will gladly do it with you online.

Who's on Jerkmate?
The right question would be: who's not on Jerkmate? The adult website is a worldwide community of models of all backgrounds who don't believe in the idea of a normal hookup. That means you can match with models that are into what you're into or speak your language. On Jerkmate, there are models of
all ethnicities and races

all sexual orientations

all ages

all preferences
In fact, there's a great chance that the model you connect with on your screen is just like you.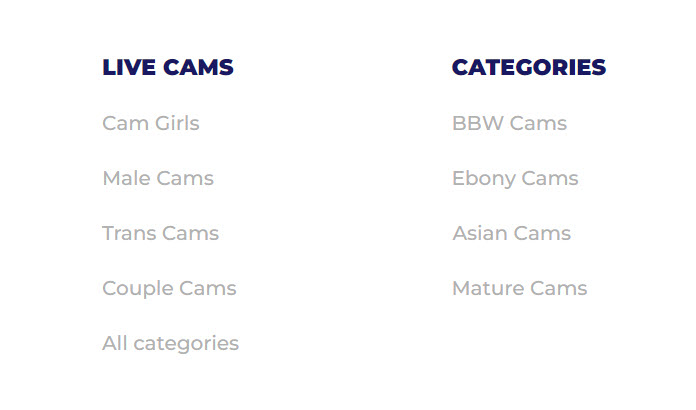 Is Jerkmate Safe or a Scam?
Jerkmate is 100% safe. Everyone on the site is 18 and older. Jerkmate verifies every model's identity thoroughly before they can join the online community. And all users have to certify that they are 18 and older to enter the site. 
Remember, the platform is free, but some features–the hottest ones–are paid. That's the best way to ensure that performers can give premium users an over-the-top experience. So when you sign up, you have nothing to pay. You only get charged if you want to access private chat sessions, exclusive videos, live events, or tip models.
Also, you will never have to worry about someone seeing you on Jerkmate. Your identity is confidential. What you do on the site is completely private: no name, no picture. 
Wanna be seen having a great time? You can go cam2cam if you want to, just ask your partner and take your experience to another level once they're in.

The same applies to people who visit the site more often. You can set up daily limits in your account setting to stop any spending after x amount. No surprises, no charges you didn't agree to. And good news, your credit card statement will show your Jerkmate spendings as ECHST.NET to preserve your intimacy.
How do I sign up on Jerkmate?
To register, you must provide a valid email address, a username, and a password. You will receive an email to activate your account–don't forget to check your spam box–and will be asked to provide a valid credit card number and agree to the terms of service. A $1 USD fee is will be charged to make sure the card is valid. Remember, you must be 18 to enter the Jerkmate community.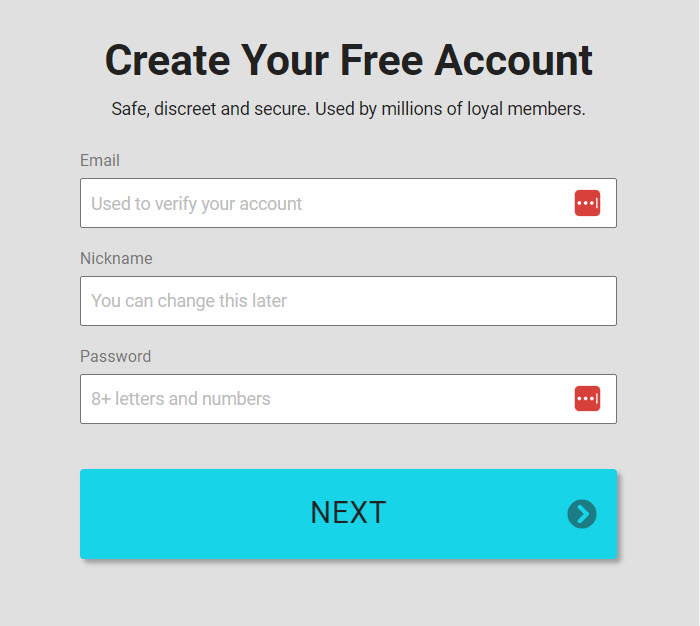 What's free on Jerkmate?
Browsing profiles
View photos, bios, models' preferences, kinks and fetishes, and member reviews on a model's profile at no cost. Do they have the body type you like? Are they adventurous enough in their videos? Do they spend enough time on the stuff that you like? Watching their best-recorded content might give you a good idea of fun you can have with them in a private chat!

Is he or she your perfect match? Add your fantasy model to your favorites and make sure to turn on the notifications. That way, you'll never miss one of their upcoming live cam session!
Peeking into a cam room
Like the feel of being a voyeur outside the room? Watch your fantasy model get all warmed up before a private chat. Are they sleeping? Do they enjoy foreplay? What are they wearing? Let them show you on the webcam how much they can turn you on in seconds. And depending on how well they can capture your attention, you won't have to search for a new partner to have a good time with.
What are the perks of a premium membership?
Tons of advantages come with a premium subscription to Jerkmate. But these are the top 2.
Private and Exclusive Chat Sessions
Wanna enjoy the view and see a model live in a personal setting? Then, private cams are perfect for you. The intimacy of private cams can give you the ultimate custom experience. Share your wildest desires. You never know; they might come true!
What type of action gets you to the edge? Do you like to watch, or do you prefer being watched? A private chat session is where you'll get your answers! Try going cam2cam with the girl or guy of your choice for a more stimulating experience. Just ask the model on screen by clicking the Start your cam button at the top right corner of the live feed. 
Gold Shows
Don't miss the chance to see your favorite model perform with other Jerkmate community members during a Gold Show and have a unique group experience. The model sets the buy in-rate for a gold show in Gold, and the performance is cofinanced. So all the members interested can pledge a Gold amount to make the upcoming show happen. And if the show doesn't take place, you won't be charged. During the show, you can also tip your favorite model with Gold to show your hot appreciation.
A cool thing about the gold shows: if you miss one, you might be able to catch the video on the model's page later on. New videos are added to the cam site weekly to make sure every member gets a chance to see their favorite model in the heat of the action. 
What's Gold, and what can I buy with it?
Gold is your currency on Jerkmate website. It's what allows you to tip models. Gold also allows you to buy in your seat on Gold shows (live shows with many viewers) until the target amount is reached. 
Essentially, 1 gold is the equivalent of $1 USD. Here's a breakdown of Gold and its pricing on the Jerkmate site.
Each model sets the price for  Gold shows and private chat sessions. They also decide the cost of their videos and their monthly FanClub subscription.
With your Jerkmate membership, you get access to exclusive rates for private sessions with performers and updates on live events featuring your favorite models. You can email models, add them to your Favorites list, and get notified the second they're online on the Jerkmate website.

For that amount of money, that's some serious premium experience!
Will you find your next partner on Jerkmate? Thousands of like-minded adults are waiting for an opportunity to play with you via webcam. 
Wanna watch? Wanna be watched? What turns you on? What could turn you on? Find out!
JOIN THE SEXIEST ADULT COMMUNITY